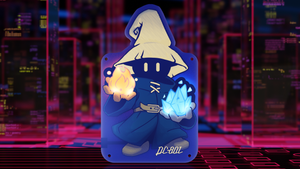 DC801 Black Mage "Spells" Art Board
The DC801 Black Mage is back with some new spells!
This art board is intended to be an upgrade for an existing DC801 Black Mage Badge Game Board. You can remove your current Art Board and replace it with this one.
PLEASE NOTE THAT ORDERS PLACED ON THIS WEBSITE WILL NOT BE FULFILLED UNTIL AFTER DEFCON 30!
Features:
Micro USB with U2F Bootloader for drag and drop programming (or platform.io if you want to go hard mode)
An RP2040 Microcontroller
4MB flash storage for custom program/light pattern storage
10 RGB LEDs that power the spells
Some awesome pre-programmed light patterns
Capacitive touch buttons hidden in the copper on the front side for pattern selection
When attached to the game board, will be powered by the game board's battery
SPECIAL THANKS, in no special order:
We have added the ability to make a donation to our hackerspace as part of your purchase; donations will go directly to upkeep, content development, and rent for the 801Labs hackerspace.